Have you ever put a lot of time and energy into creating Facebook ads, only to find them falling flat? Facebook advertising can be an effective way to reach your intended audience...if used in the right way. Facebook advertising offers a variety of features and options that allow you to broaden your reach, increase page likes, push traffic to site pages, and more. If you still feel stuck when it comes to ad creation for Facebook, we're here to help.

1. know your audience
When it comes to most marketing tactics, it's important to lay the framework. Over the years, Facebook has switched who their main demographic is. Now, there are multiple different age categories that utilize it, some more than others. It's important to come up with a detailed target audience in order to create ads that best suit that demographic. Consider the people who will be most interested in your product or service. It's also important to play around with your audience size. In some instances, a broader audience will serve you well, and others a specific audience will get you the best results. It all depends on timing, product or service offered, and the audience itself.
Once you have established who your target audience is, consider how you will target that specific group of people. Facebook has a detailed targeting option to narrow your audience down by demographics, interests, behaviors, and more. This can be a useful tool, but don't overdo it, as it could end up limiting your audience more than you want.


2. retargeting
Retargeting on Facebook gives you the option to pull from other sources or lists to determine who you want to target to. You can pull from a previous list, such as email or blog subscribers. You are also given the option to find those who have engaged with your content in some way. Targeting an audience is a much smarter way than to just assume or guess who you think wants to see your content.
When it comes to retargeting, how and when to use it is crucial. You don't want to bombard your customer base with ads that they might have already seen. A good retargeting tactic is finding individuals who have visited your website in the last 30 days. If they did not purchase anything, they might need a nudge (like a Facebook ad) to get them re-engaged. Another tactic is to create a "lookalike" audience. By doing this, you can target people who have similar qualities as those who are already your customers.
So what information should be in a retargeted ad? Well, there are a few different options. One of our top recommendations is to offer the retargeted audience a personalized offer. This will give them even more incentive to convert with a purchase. Another option is to adjust your call to action (CTA). This will give them a "new" way to engage with your product or services.


3. placement matters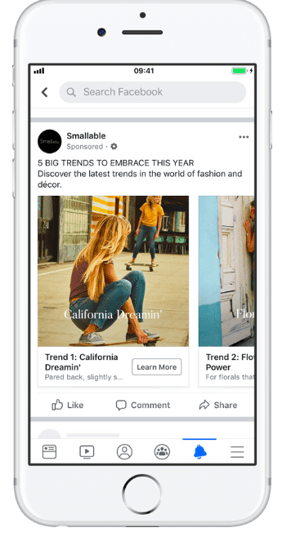 When it comes to advertising, placement can make or break a conversion. Consider all the factors before you decide where you want to place an ad. What is the artwork or visual design of the ad? Where would your audience most likely be drawn to your ad? The main consideration here is where would your ad be the most appropriately received. Once you've thought about these factors, you can decide if your ad should go in Facebook Messenger, or in their newsfeed, etc.
Another placement factor is what type of device will your audience mostly be on. Will most of your audience engage with an ad via desktop or mobile device? Facebook offers the option to run ads on a desktop, mobile, or both. Will your audience be more receptive to an ad that appears in their newsfeed as compared to the right-hand column ads?
Another thing to consider with ad placement is whether or not you want your ad to go on both Facebook and Instagram. Because Instagram is owned by Facebook, you have the easy option of running the same ad on both platforms. But does that mean you should? Once again, it depends on your audience and who you're trying to reach. Instagram and Facebook can have similar audiences, but they also cater to different demographics. In most cases, it can't hurt to have an ad on both platforms.


4. gif advertising
GIF advertising is an easy way to engage your audience, with minimal effort on their part. With a GIF, your audience will be attracted the same way a video pulls them in, without the need to play or listen. Wistia Video Analytics show that 80% of videos are viewed if they're 0-30 seconds long. GIFs are a perfect way to create useful marketing content without the time and effort it takes to make a video. Consider making your own for a Facebook ad with GIPHY's GIF Maker.


5. video still matters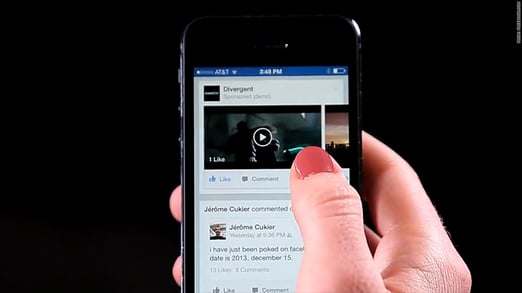 Even though GIFs are seen as a great way to market on Facebook, videos are still a very strong option. In fact, Facebook videos get around 8 billion views per day. Video is still relevant and yields very high engagement levels. Now, don't underestimate the power of a short video. As stated before, the shorter the video, the higher the likelihood someone will watch it. Video ads are a powerful tool that, if used correctly, can drastically improve your engagement rate.
Another way to amp up your video views is by adding captions. Facebook users watch 85% of videos without sound. If you have a video or a slideshow ad, it's important to consider how they're being viewed. If you include captions to these types of ads, it makes it easier for your audience to watch it with the sound off. According to Facebook, captioned video ads increase video view time by an average of 12%. By adding captions, it doesn't limit their ability to receive the same information, regardless of the situation. It also allows you to open your content up to a larger audience. It's a win-win!


6. utilize facebook analytics
It's nearly impossible to measure your success if you don't know where you started and you don't know your outcomes. Using Facebook Analytics is a great way to find out how your ads are performing. Plus, you'll be more confident in reporting, knowing the data you're getting is about Facebook and from Facebook.
Some things to look for when viewing analytics include:
How many people your ad has reached
How many people actually engage with your ad
Number of referrals from social media
Conversion rate
Cost per conversion


7. choose the right objective
When marketing on Facebook, you have the option to choose your advertisement objective. There are about 15 different objectives to choose from. By choosing an objective, it allows Facebook to create a more specific campaign and audience. There are three different overarching objectives that you can choose from. They include awareness, consideration, and conversion. Are you trying to generate interest, get people to look for more info, or get individuals to actually purchase a product/service? By asking yourself this question, it can help you choose a useful objective.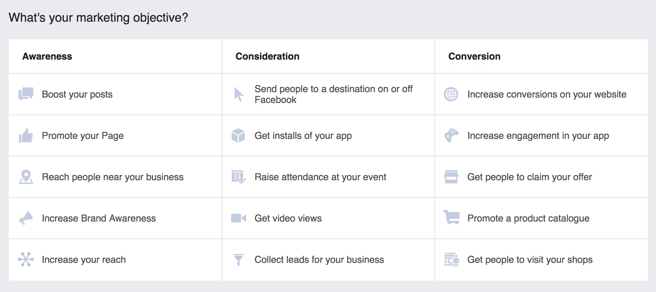 Facebook ads can be hard to navigate, and hard to get the hang of. There are so many options and features that it's hard to know where to start. Hopefully these tips have given you the foundation to get the ball rolling in the right direction.