If you read our blog on Persona Based Marketing, you'll remember we mentioned Account Based Marketing (ABM). This blog will dive headfirst into the benefits and drawbacks of account-based marketing strategy, what it is, insights, and more.
What is Account Based Marketing?
Companies that operate through business to business transactions (B2B) with longer sales cycles thrive under ABM strategy. B2B organizations tend to have either a few large-sized clients or several well-established clients in a shared industry. The advantage of ABM for B2B organizations is it allows them to market to many people of one organization as if they are one unit. When a marketing team focuses on a business as one unit, they are better able to understand its industry, competition, and client base too. This broader understanding creates a strong, trusting relationship between the marketing team and the client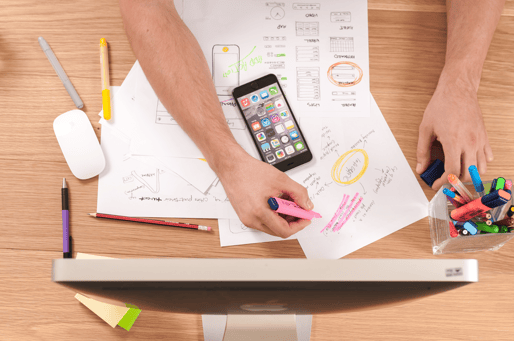 One way ABM strategy stands out from other strategies is its emphasis on sales and marketing alignment. This strategy gives marketing teams a definite, measurable goal, which means higher ROI growth rates in the long term. Companies with sales and marketing alignment see up to 32% revenue growth annually. For clients with a large sales team, ABM marketing provides personal, well-aligned creative service.
ABM is often called zero or low-waste marketing. Strong marketer-to-client relationships ensure less miscommunication, and strong marketing-to-sales alignment ensures effective use of the client's dollars. With ABM, creative energies, finances, and everyone's time are more efficiently used to market the client's products or services. With clear set goals and budget, the marketing team's job is easily and efficiently executed.


Account Based Marketing vs Persona-Based Marketing
Persona Based Marketing (PBM) is similar to ABM in many ways. Both marketing strategies emphasize personalized content for engaging potential customers. Both of these strategies prioritize selling specific products to specific customers and strive to create highly targeted marketing campaigns. Both of these marketing styles waste little energy, time, or resources by marketing only to the best fitting contacts and most likely customers. Persona Based Marketing, however, works best when you need your marketing content to speak directly to one decision-maker. PBM might be more difficult to execute for B2B organizations where many decision-makers exist in the different hierarchy levels of one company.


Insight + Stats on Account Based Marketing
Around half of marketers agree that personalized content and advanced data management are

the biggest keys

to ABM success.
ABM improves customer lifetime values and conversion rates too according to

80% of marketers

.

Nearly 90%

of marketers say ABM strategies outperform predicted ROI.
The

most common metric

used to track ABM is revenue won.



How to Get Started with ABM
Account based marketing stands out from other strategies because it flips the traditional sales and marketing funnel. A traditional model flows from awareness, then to buyers' consideration, and finally at the bottom and most narrow point, to the buyers' final decision or purchase. The ABM model, however, places emphasis on identifying target accounts first and expanding that relationship, then engaging them, and finally, converting the contact at the very broadest and final stage of the process.
According to the ABM funnel model, you can begin to map your marketing strategy following these steps:
Identify targets: With help of sales and marketing teams, work to pinpoint your perfect target customer. Your target is the type of person or company that checks all the boxes for your company and follows through with a purchase every single time.


Expand: Focus all marketing efforts on the target account you established in step one. Keep your ideal buyer in mind at every stage of planning so every last bit of your strategy holds your target's best interest at heart.


Engage: Take time to personalize the marketing content whenever possible, foster conversation across social media platforms in both comment sections and direct message inboxes, and share project case studies. All of these practices and many more can engage and connect with your target audience to better gain their trust.


Convert: This final stage is the one you've been working towards! Here is where the potential lead will decide if your company is trustworthy and your product or service is relevant and necessary enough for them to become a customer.


3 Tips for leveraging Account Based Marketing
1. Make time to identify your target customers and the reasons why they are the ideal prospects for your brand.
These parameter
s

may help you identify just what clients you are looking for:
Market: industry, company size, competitors
Company: revenue, marketing share, history
People: management, buying power, key roles, influencers
Relationships: organizational structure, reporting, buying teams
2. Focus first on attracting, nurturing, and then selling to your prospects. This way, you'll save time and energy you'd have otherwise spent casting a wide marketing net.
3. ABM wins with content that is personalized and relevant! Knowing your target will help you engage them better throughout their buyer's journey.


Account Based Marketing could be the strategy to take your business to new heights if it's the right fit for you and for your customers too. If you found yourself nodding along as you read through this post, and you're looking for new ways to expand and grow your business' marketing, ABM might be the way to go.