Some tasks in life seem so big and so overwhelming you just don't know where to begin. Am I right? Whether it's painting a room in your house, teaching your kids how to drive, buying a new car, or even creating a yearly marketing plan… it's not always a simple undertaking.
Creating a marketing plan? Yes, you read that right. It can be daunting and downright overwhelming - we get it. We're here to give you some tips on how to create a stellar 2020 marketing plan.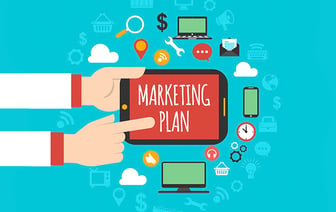 Before we dive in, let's be clear about what we mean when we say "marketing plan." A marketing plan can often get confused is something that many confuse with marketing strategies. A marketing plan is the overarching umbrella that houses different marketing strategies. A marketing plan is generally a formalized document that lays out your objectives and strategies to ultimately reach your goals. A marketing plan can be generalized to be created for a yearly overview, or it can be created for the introduction of a new product or service. The more specific you can be, the better!


Tip #1: do your research
Before starting to create your marketing plan, make sure you do your research. The most important thing is that you and your colleagues are informed of important statistics and information within your industry and target audience. If you don't establish these first, it can be hard to make a concrete marketing plan moving forward.
Research comes in many different forms. Research can include: talking to other businesses in the industry (or their customers), surveying your current customers, and social media listening to know what is being said about your business and your competitors online. There are many other methods to acquire insight, but these are a few basic examples to get you started.
Research also includes a thorough target audience analysis and buyer persona creation. By taking a deeper look into who your current and potential buyers are, you can be even more strategic about talking to them in the right place, at the right time, with the right information.Know who your target audience includes identifying age, gender, geographic location, interests, sources of information, pains, validations, and more. By acquiring this information, it can be much easier to create content that will appeal to the right audience.


Tip #2: Get multiple opinions & Viewpoints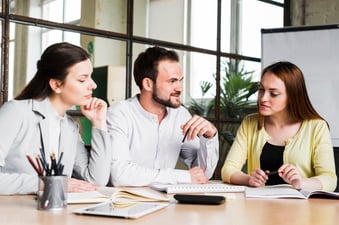 The creation of a marketing plan should be a collaborative process that includes insight from all team members. This is important because your team members should be equally informed of the goals and objectives for the coming year. How can you possibly know what you want your outcome to be if you aren't aware of the objectives?
Involving multiple voices in the process ensures everyone is on board with where you want to go. It can also provide a place for dialogue to start about ideas to be brought up that might not otherwise be brought to the attention of others. If everyone is on the same page, it results in a stronger, more efficient workflow and a productive work environment.
Your marketing plan should also align with your business values. This is a good time to review those with your team and make sure you are implementing them through everything you accomplish.


tip #3: Write with precision
Your marketing plan should be detailed and precise. This ensures that your day-to-day tasks will run smoothly and have an overarching purpose and goal to guide decisions. Make sure to include: goals, strategies, tactics, and a budget breakdown. It's important to document your goals, but it's equally important to document your strategies. CoSchedule reports that 61% of marketers document their strategy, and as a result, those marketers are 313% more successful than those who don't.
Have you ever heard about SMART goal setting? This model helps make your goals specific, measurable, acceptable, realistic, and timely.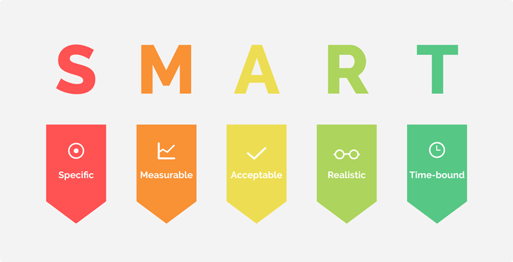 Goals shouldn't be just a bulleted list, but a detailed outline of what you want to accomplish. Strategies and tactics are great specifics for how to accomplish the goals. Coming up with content strategies will take the most time and this section will likely be the majority of your plan. Make sure to create a variety of different strategies; throughout the year you might find certain tactics work better than others and you can adjust accordingly.
A marketing plan should also include an online marketing strategy. This section is very important! Consider elements like keyword strategy, content marketing, website + user experience, lead generation, search engine optimization (SEO) strategy, paid advertising, and social media marketing. Many of these strategies tie into inbound marketing and if you pay attention to the details, you'll have a better chance at reaching your target audience and attracting them to your website and essentially, your product or service.


tip #4: write it in a way that's helpful to you
When creating a marketing plan, it's important to write it in a way that is beneficial for you and your colleagues. There are many different ways to complete a marketing plan. You can google 'marketing plan' or 'marketing plan template' and many different layouts and fill-in-the-blanks will be shown. If you're going to use one of those, go through it before starting and make sure to add or get rid of any components you know you'll either want included or are unnecessary don't need.
It can also be helpful to include different visuals and graphics to help you and your team envision the potential outcomes. Don't be afraid to think outside the box in terms of what goes into the marketing plan. Photos, videos, and infographics are all useful. Get creative, especially if you or your team are visual people.


Tip #5: don't 'set it and forget it'
We'll be the first to admit it; following a plan for an entire 12 months can be a hard task. So, maybe you start with the first quarter or the first six months of the year instead. That's all part of making it your own. Of course revisions and updates will need to be made throughout the year to adjust to changes but don't veer from the goal at hand. It takes a lot of time and energy to create a concrete marketing plan, it would be a shame for it to collect dust until you're ready to make a new one. Consistency is important. Make sure you're making note of and adapting to any changes needed along the way. Also, periodically check back to make sure your decisions are aligned with your plan. Your 2020 marketing plan doesn't have to be set in stone; it should be a living document that ebbs and flows with the needs of your sales, marketing, and business overall.
Following these tips is just the start of creating a complete and concise marketing plan. Get started now before the new year is here - you'll be glad you did.