Did you know research shows for every $1 you spend on email marketing, you can expect an average return of $42? But you can't expect that ROI if your customers aren't intrigued enough to open the email in the first place. That's where email subject lines come into play. Subject lines play a big role in the success of your email marketing campaigns.
Subject lines might seem like a small and petty aspect of your emails, but 47% of email recipients open emails based on the subject line alone. Your subject lines will vary from topic, to amount of characters, but one thing should always stay the same: the use of keywords.
Here are some general elements that help email subject lines succeed...


timeliness & urgency
Your email subject lines should indicate there is important and timely information inside the email. Along with timeliness, there needs to be some sort of urgency to your email. Give your readers a reason to open up the email when they receive it. Use different action phrases or use a "scare tactic" to get your audience to think they'll miss out on something. Ever had FOMO (fear of missing out)? Use this to draw readers in. Try using phrases such as: "Get this NOW before it's gone" or "Tonight only:". This will get readers to act as soon as possible. Using timely phrases creates its own sense of urgency.


personalization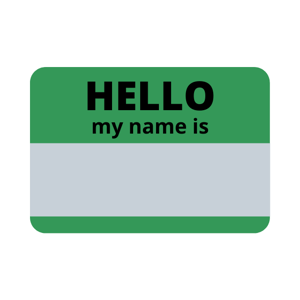 As a marketer, there are many ways to gain insight into your subscribers' preferences and interests. When it comes to emails, try to make it as personalized as possible. This is a great way to draw your readers in and want to open the email. 55% of consumers prefer personalized messages to include products and offers relevant to their preferences. In a time when almost everything is personalized, be sure email subject lines are as well. Consider using a customer's name in the subject line or using casual language to seem more individualized and less like mass-marketing material.


Make an offer
Providing some sort of offer in the email subject line gives your subscriber a specific benefit to opening up the email. You can't go wrong with this one! If you have a way of providing a free (or discounted) service or product to your email subscribers, this is a wonderful way for them to feel as though they're getting something out of being an email subscriber. If you plan on providing an offer, don't hesitate to add this to your subject line, as this is one of the biggest reasons why consumers open emails.


Spark curiosity
There can be a lot to benefit from keeping some mystery between the reader and the content of the email. This is when a good subject line acts as a way to spark a reader's interest and in turn, make them want to open the email. This type of subject line is modest and simple, yet somehow interests the reader. Don't make it too vague, or the reader won't be intrigued at all, or even worse, send it to the spam folder.
Alright, let's get down to the nitty-gritty of subject lines. Here are some more specific tips to help you write good subject lines...


1. be precise & accurate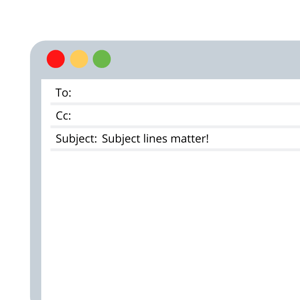 Email subject lines should never get too lengthy and they shouldn't give away too much information. After all, that's what the email itself is for. An easy way to think about how to write a good email subject line is to think about how you construct your blog titles or your meta descriptions. Create a subject line with keywords in mind and helpful phrases.
There is a term called the "dead zone" that refers to subject lines that have between 60-70 characters. It was found that subject lines that had between 60-70 characters had no increase in open rate or click-throughs. The main rule of thumb is to create a subject line shorter than 60 characters or more than 70.


2. be straightforward
The average office worker receives around 121 emails every single day This means most individuals aren't interested in emails requiring a lot of thinking or reading between the lines. Give your readers what they want, and give it to them in a simple way. As the saying goes, less is more.


3. use concise wording
Use concise wording when creating a subject line. This shows readers you're not trying to embellish your topic just to get a higher open rate. This is also important because most people aren't taking time to slowly read each email subject line, they're generally skimming through their emails and opening those they deem important. Clear and concise wording will provide them the information they're hoping for.


4. make your audience feel important
As stated before, personalization is an important part of our lives. Individuals are drawn to things specifically designed for them. Emails are no different. If they are made to feel important or special just in the subject line, they'll feel more obligated to open it up. Using phrases like, "An offer just for you!" will entice them and make them feel like they're on the inside and have a sense of belonging.


5. don't use all caps or too many exclamation points
A study done by the Radicati Group showed 85% of respondents prefer an all-lowercase subject line as compared to one in all caps. It has been found consumers feel as though they're being yelled at when things are written in all caps. Sometimes consumers don't want the flashy marketing tactic. Instead of using a tactic such as capitalized letters or exclamation points, focus more on the keywords being used and choosing appropriate language.


6. leverage humor
Everybody loves a little bit of humor every now and then. Using humor in a subject line can lighten the mood and humanize your business. Some people really enjoy a good pun, while others like a joke pertaining to your business and it's goals. Make sure if you use humor, it's appropriate and relevant to your brand. Leverage humor if you know your audience well and it's a well-placed joke...don't force it!


7. pose a question
Asking your audience a question is another great way to get them interested and intrigued. Make sure it's a question pertaining to your audience and what they're fascinated in. A well-thought-out question relevant to the material inside the email can pique your audience's interest and get them thinking even before they open the email.
Questions could be simple as, "Are you making these SEO mistakes?" or, "When was the last time you updated your website?". Either way, it's a great way to start a dialogue with your customers!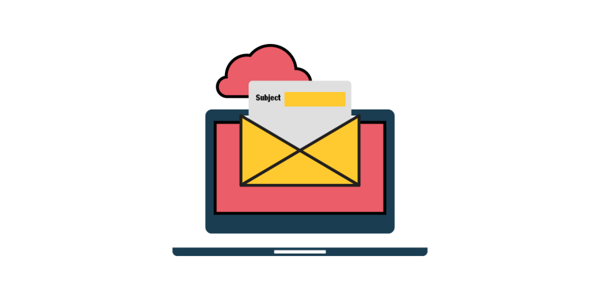 The fast-paced world we live in has its advantages and its disadvantages. Consumers aren't waiting around for things that interest them. Instead, they're hoping that marketers will find topics that interest the consumer. When it comes to subject lines for your email marketing campaign, make sure you're doing your part to draw the reader in, otherwise, your email could be sent to the trash bin.