Though this symbol has many names (number sign, pound sign, hash,) it wasn't until 2007 it was first used as a method of creating channels in social media. In August of that year, a Twitter user named Chris Messina published a blog post advocating for hashtag channels of communication on Twitter. He intended for them to act as metadata for tweets. In other words, he proposed they provide extra information about where you are or what event you're referring to. Fast forward to 2020 and the hashtag is now an integrated piece of Twitter's identity, and nearly every other social media platform as well.
Hashtag Basics
There are a few things you need to know about using hashtags before you start using them in social media posts. Before you even begin planning your social media content and hashtags, consider making your account public. If you want your hashtags to bring in new followers, impressions, and higher engagement rates your account and posts need to be public and available to people who are interested in your hashtag threads. If your profile is private, the hashtags you publish will only be available to your current followers.
Once your account is open and ready to roll, set aside time to brainstorm a list of basic hashtags relevant to your brand and your business. This list will serve as a handy go-to pool of readily available hashtags that will go with your business' most common content topics as well as address specific business areas as they pertain to goals, growth, etc. Something to keep in mind as you write is that hashtags won't work if you use spaces, punctuation, or symbols.
Here are some #QuickTips:
Hashtags function similar to keywords; optimize them accordingly

Keep them

#short and #sweet

so they're easy to read for followers

Make sure you're staying

relevant and specific

so you can directly target your audience


Use the following parameters to help you get started with your
hashtag brainstorming.
..
Subject matter

in your post

Location

of your post

Caption

topic

Brands

featured in your post

Emotion

you're sharing in the post

Lifestyle

you're talking about in your post

Your industry and

niche

How to use hashtags on Twitter
Twitter is the birthplace of the hashtag, so be sure to curate and integrate hashtags in each and every one of your tweets! Twitter uses hashtags to tie the conversations between different users into one larger conversation stream. You can find these different hashtag channels via the '#Explore' search bar above your Twitter feed. Twitter sorts your hashtag results by the Top (or highest trending tweets), Latest (most recently published tweets), People, Photos, and Videos. You can also find and follow the hashtags that are trending in your area to stay up to speed on the latest local news.
When you publish a tweet, you can use hashtags at the start, end, or middle of the post. Twitter recommends you use no more than two hashtags per post, but you may need to do some trial and error postings to find what works best for your brand. Our best recommendation is 2-5 hashtags, depending on your audience and industry.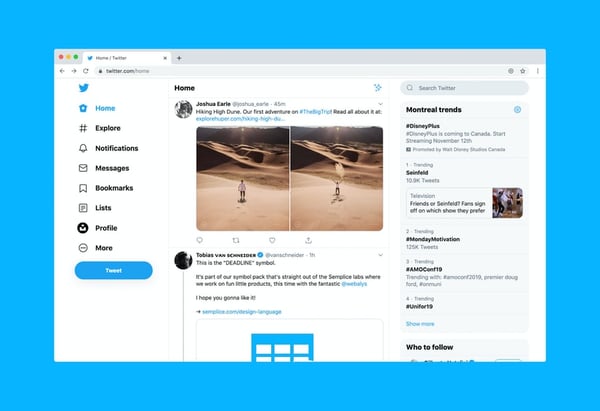 How to use hashtags on Facebook
Like Twitter, Facebook ties hashtag conversations together into one channel. Since 88% of people on Facebook use the platform to stay in touch with friends and family, hashtags work a bit differently on a Facebook post. Because fewer people have public accounts on Facebook, hashtags are less effective for reaching potential new followers and customers. As a result, hashtags are more frequently posted, and more successfully posted by popular influencers, brands, and publishers with large followings as opposed to individuals.
Facebook sorts hashtag channels into Top, Latest, People, Photos, and Videos categories just like Twitter. Facebook also sorts hashtag streams into Shop, Pages, Groups, Places, Apps, and Events. These channels are all accessible through Facebook's main search bar above your feed.
For optimal hashtag use, you should include around 1-2 anywhere within the copy of your Facebook posts, if any at all.


How to use hashtags on Instagram
Like Facebook and Twitter, Instagram hashtags tie posted content into conversation channels. A smaller audience of Instagrammers have private accounts making hashtags a more effective tool for driving engagement rates and increasing overall following. An Instagram post with at least one hashtag averages 12.6% more engagement than a post with no hashtags at all. So what are you waiting for? Get your Instagram hashtagging on.
91% of top brand accounts use less than 7 hashtags and Instagram recommends its users include 5-10 hashtags in a post. Ultimately, the magic number of hashtags depends on your brand and your Instagram following. As with the other platforms, you'll need to try posting a wide variety of hashtag amounts in order to find your brand's perfect amount.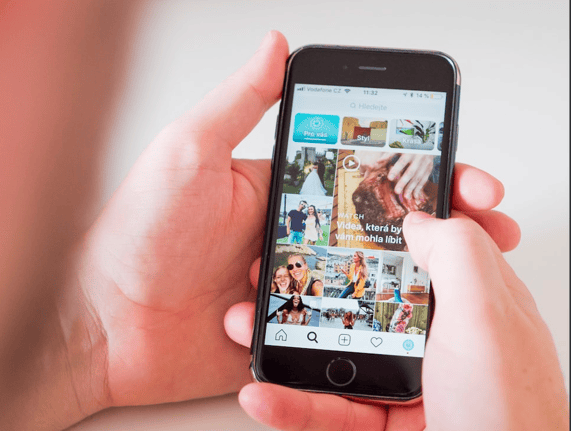 Instagram categorizes hashtags into top posts, recent posts, related hashtags. This platform's user interface is much simpler because of its video, photo, and story post options. The app will actually suggest related hashtags for you to explore based on general popularity as well as the hashtags you follow and use frequently. You can find hashtags on your Explore page under the 'Tags' category.
Instagram content is heavily rooted in the aesthetic appeal of the content. Since the only content you can share on Instagram is visual, it makes sense that hashtags look a little bit different on this platform than the others. When using hashtags on a story, many users will blend hashtag text into the background of a post using the eyedropper editing tool so that the text does not take attention away from the visual appeal of the image. Another way users maintain their visual aesthetic on stories is by pinching the hashtag text so that it is very small.
When including hashtags in-feed content, users will add a series of periods ('.') or symbols ('*') to separate the hashtags from the caption. Doing this declutters the caption, and ensures that the followers' focus is on the copy, not the hashtags.
In addition to stories and feed content, you can also include hashtags in your profile bio.


How to use hashtags on Linkedin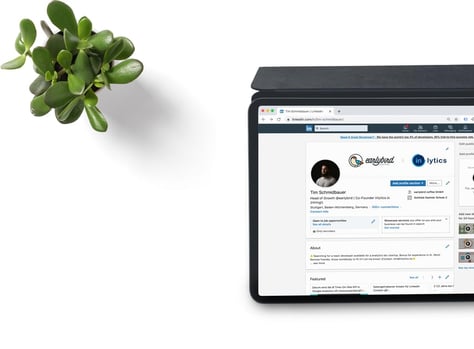 Last but not least, it can be advantageous to include hashtags in your LinkedIn posts as well. Writing hashtags for LinkedIn is unlike writing for any other platform. An air of professionalism is necessary for LinkedIn which Instagram, Facebook, and Twitter do not require.
On LinkedIn, you can include hashtags in a post, article, your profile headline, or company profile headline. We recommend you cap your hashtag use at 5 per posting, but trial and error will help you find the number of hashtags that fits your brand. When it comes to publishing articles, you'll see a pop-up window appear that invites you to 'Tell your network what your article is about.' This window is where you should type up a brief summary of your article and include relevant hashtags too.
In addition to including hashtags in your LinkedIn content, you can also follow hashtag topics or trends that interest you. Based on the hashtags you follow, LinkedIn will suggest similar hashtag topics too. You can search hashtags and view suggested hashtags via the Hashtag option on the left side menu.


Now that we've been through each platform's hashtag etiquette, do you feel ready? The best way to start is just to start. When you find the right hashtags, and the right amount of hashtags for your brand, you'll know. Until then, try everything, and don't let mistakes trip you up! #GoForth #GoMarketing #GoGreenline