Marketing doesn't get much better than seeing results while only doing part of the work. How about a software that organizes and helps plan marketing activities for you? Sound too good to be true? It's not. Marketing automation is here and this useful marketing tool isn't going anywhere anytime soon … and the statistics are there to prove it.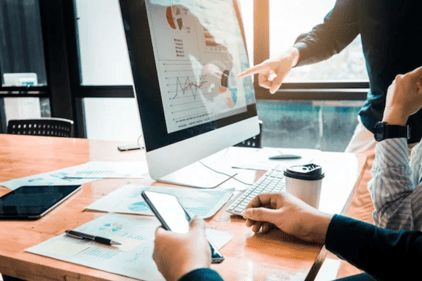 One of the biggest benefits of marketing automation is saving time, according to Adestra's Marketer vs. Machine report. "Marketers say the biggest benefits of automation are saving time (74%), increased customer engagement (68%), more timely communications (58%), and increased opportunities, including up-selling (58%)."
Now that's something we can all get behind!


So, what is marketing automation?
Marketing automation, simply put, is any software that aids in the process of creating and sending marketing materials. It's generally used for email, social media, and specific website actions. It is a tool that helps marketing teams control their strategies over multiple different channels at one time. Marketing automation is generally used to increase revenue and maximize efficiency in the best way possible.
Marketing automation has three different categories, which include 1) marketing intelligence, 2) business development, and 3) workflow automation. Marketing intelligence is the use of tracking codes to follow your customers' behaviors online. This is helpful so you know which marketing tactics to implement for which customers. Business development is the idea of bringing customers from the beginning stage of awareness to the decision stage when they're ready to buy. This can be done by personalizing marketing automation tactics to get and/or keep contacts interested. Lastly, workflow automation is the internal process that keep things running smoothly. Examples of workflow automation could be budgeting or a marketing calendar.


how to implement marketing automation techniques
"Marketing automation is automated so it requires no work, right?". Wrong. Although it takes a lot of the 'finicky' work out of marketing tasks, it still requires strategic planning and hard work to create a useful system. Once the process is started, goals are set, and a strong foundation is laid, it becomes a simpler process.
Implementing marketing automation has a starting point like many other marketing strategies. In order for it to be a successful process, you must first layout the goals you'd like to achieve. It's important to not just pull from your general marketing goals, but rather, revise those goals to be specific to marketing automation. With more specific goals, you'll have more in-depth and accurate results.
It's important to still use the framework of inbound marketing alongside marketing automation. Don't let the basic elements lack, otherwise marketing automation loses its value. Make sure you're still sending specific and relevant material to the right audience. With marketing automation, it can be easy to fall back into traditional marketing methods, but by following inbound marketing strategies, you'll get even more out of it.
Another crucial tactic of marketing automation is content creation. Start off on the right foot by creating a content library full of materials that can be used across different platforms. If you have a good base of content material, it will be easy to start marketing automation and continue a strong brand personality.



benefits of marketing automation
Marketing automation allows you and your business to consolidate all your social media efforts in one place. This makes for easy work, and it allows you to review analytics and insight on engagement and success all in one place. Can't get much better than that, right?! In terms of analysis and refinement, marketing automation can be the right tool to get you started. It's much easier to see the bigger picture when actions are measured and able to be analyzed together.
Marketing automation is the best of both worlds. It uses robot-guided thinking to aid in distributing material, while still keeping the production of the material up to the human. Good marketing isn't good unless it's reliable and trustworthy. Marketing automation allows a business to keep the needed aspects of marketing, authentically, while becoming more efficient in other, less detrimental aspects - like sending out tweets.
Marketing automation gets rid of monotonous tasks that take up precious time and replaces it with efficient and useful ways to achieve the same, if not better, results. According to Nucleus Research, marketing automation, on average, drives up to 14.5% increase in sales productivity and a 12.2% reduction in marketing overhead.


So, what's the big deal here?
Some still aren't convinced marketing automation is worth the time and trouble. And some aren't convinced it will stand the test of time. Think of all the time you could save if you weren't sitting on social media trying to post each individual post or the hours you'd save if some of your followup emails were done for you
There are many marketing automation tools and solutions out there. Take your time and consider which options would be best for your business. Taking the first step and getting started is the best thing you can do to discover how it can and can't work for you. But the truth is, you'll probably see more positives than negatives.