"What gets measured gets improved"—a phrase more or less attributed to management expert Peter Drucker. Though its origin isn't written in stone, this piece of wisdom has withstood the test of time because it's 100% true.
What are KPIs? (+ Why You Need Them)
By measuring your marketing performance often and holistically, you'll be able to determine if you're headed in the right direction and if you're not, how to regroup and pivot your strategy.
Before we dive into the sea of data around key performance indicators (KPIs) and marketing metrics, let's get one thing straight: marketing metrics and KPIs are NOT the same things.
Your KPIs are what moves the business or organization forward in the long-term, and relate to a company's goal, mission, or strategy. KPIs are more of a long-term tracking system; the bigger picture a 10,000 piece puzzle creates, while metrics are the groupings of pieces you focus on short-term, and the data is the individual pieces of this huge endeavor. A marketing KPI is a set value that aligns with a business objective.
Marketing metrics, on the other hand, provide context for why you're seeing results about the KPIs. They're not the sole metrics to measure, but they do provide useful insights into your ongoing efforts and how they're playing into the bigger picture. Marketing metrics are trackable measures of data used to evaluate the performance of campaigns and assets. Individual metrics can include clicks, impressions, website visits, and email open rates.
Setting smart, strong KPIs can have a direct impact on the success of a business, which usually means more customers and higher revenue. The supporting marketing metrics typically help break down how to achieve your KPIs and what contributes to the website visits, CTA clicks, impressions, social media shares, etc.


How to Determine KPIs
KPIs are essential for many reasons but in large, your marketing metrics alone end up giving you a false impression that your efforts are successful in achieving your overarching goals, when this may not be true. For example, if your goal is to sell coffee and your ads are getting tons of clicks, it should indicate that people are interested in your product. However, this doesn't necessarily translate to reaching your targeted sales goal. That is going to depend on if your audience is converting because otherwise, you're not achieving anything. KPIs and marketing metrics together can help you better determine not only if you hit the mark, but also what campaigns and strategies worked the best. Here are the top four things to think about when determining your company's KPIs.
Select KPIs directly related to your business goals
What are your company objectives? Have you recognized any major areas for optimization? What are the highest priorities of focus for your team?


Concentrate on 2 or 3 key metrics
If you track too many KPIs, you might become overwhelmed with the data and lose focus.


Evaluate your company's stage in development
Younger businesses typically focus on KPIs revolving around business model validation, while more established companies focus on data playing into cost per acquisition and customer lifetime value.


Pinpoint both satisfactory and subpar performance indicators
KPIs help you track your progress and scale to grow beyond. So make sure to reflect on what's been beneficial in terms of KPIs so you can reflect on them.
Setting Smart KPIs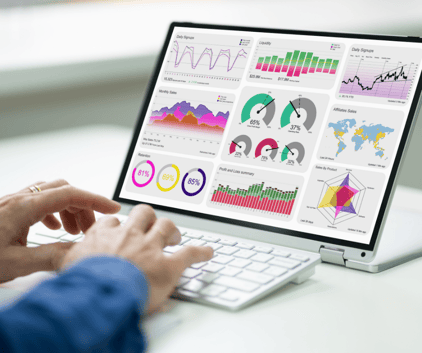 When looking at how to determine what KPIs will be the most responsive to the strategies your business has in place, it's good to start with some key indicators. Key performance metrics are numbers that matter to your business. While every brand has unique goals and strategies, there are some universal metrics to measure, yes, at the end of the day these KPIs should be pointing somewhere.
Having a good goal-setting process is important because it will determine how successful your KPIs are at tracking your business's overall success and how you adjust to help your business grow by evaluating if your KPIs meet them.
Specific – The goal should have a focus. The more focused, the easier it will be to plan for it.
Measurable – Measuring your success is key when knowing your progress and what adjustments need to be made to stay on track.
Achievable – It's important to be ambitious but you need to be realistic both with the goal you choose and the reasonable amount of time it'll take to get there.
Relevant – Your goals should align with your overall business objectives and values.
Time-Based – There should be an end date that drives your efforts.


6 KPIs to track
Web Traffic

Without traffic, you have no customers. But the truth is, where your traffic is coming from is a much more valuable set of data than how much you get. You can leverage where your traffic is coming from to focus your efforts more heavily on these channels to generate more traffic. Say you're getting 1,000 visits per week… great - what channels are contributing to that traffic? Where are the most conversions happening? What results in the highest levels of engagement? Take note of these to invest more in the highest generating sources. This is a good one to keep your eye on every month. Often a couple of channels will drive the majority of traffic, making them the biggest focus.



Qualified Leads

…everyone needs them! Without a consistent source of qualified leads, you likely won't see growth. As a result, the amount of leads generated is a key KPI. Measure the number of leads you have, where they come from, and the traits of highly qualified leads. You guessed it – you need to know your buyer personas. Don't forget to home in on how much you're spending on acquiring leads and nurturing relationships with them, as well. This should be tracked regularly to help you determine the channels that offer the most optimal cost per acquisition and help you further your strategies. And quality leads will only help you develop more quality leads, 79% of consumers trust online reviews as much as they trust personal recommendations.



Search Rank

68% of online experiences begin with a search engine. It's no secret the higher your website ranks for relevant keywords, the better. Search ranking is a crucial KPI because it directly correlates with your organic success. Once you get the higher search positions, you're one step closer to seeing success in your other objectives related to traffic, leads, and conversions. To successfully rank, it's crucial to think about how you track your rankings for the right keywords.



Conversion Rate

Why do we run SEO, PPC, and other campaigns if not for conversions? Conversion rate is the number of visitors that complete a goal compared to the total number. For example, if you have 100 visitors come to a website and 12 purchase a product, you see a 12% conversion rate. It can be tracked in many different ways as long as it's consistent - but not every day because you'll drive yourself crazy. First and foremost, installing Google Analytics and allowing it to collect data is a strong first step. You can create goals that appear on the conversion section of the dashboard. These can be for anything from sales to subscribers or form completions, whatever your heart desires. But one top thing to keep in mind when it comes to any specific conversion is load time, Conversion rates fall by 4.42% for every extra second it takes your website to load.



Cost-per Conversion

While conversions are important, how much you spend to generate conversions is equally critical. You want to ensure you have good profitability and margins, right? Otherwise, you could be breaking even without realizing it because it costs as much to acquire a customer as they are spending. So make sure to evaluate this one every month or so, depending on how much you are investing so you're not throwing precious time and money away. Overall, the average conversion cost across all industries is $48.96 for search and $75.51 for display.



Digital marketing ROI
Every company wants to see a return on its marketing investment. Calculating your digital marketing return on investment is crucial in assessing performance success. Equally important is how you plan strategies and budgets for future periods. You don't want to continue increasing your budget for an ineffective marketing activity that is costing your company. As a rule of thumb, digital marketers should aim for an average ROI of 5:1 — that's $5 gained for every $1 spent on a marketing campaign. So, no matter what marketing activity your company is using, your return on investment will determine how you should develop campaigns and strategies in the future.


KPIs = Success
When it comes to strategy, there is no way for a business to grow and reach a destination if it does not have a destination and a road map to get there. The development of KPIs through targets, goals, and events is key when it comes to measuring the success of your marketing efforts. The only thing more important than setting the right goals is how you track them. One of the top powers of digital marketing is the ability to measure your success with lots of detail. Doing this correctly checks that you are doing the best job you possibly can.