In this time of uncertainty, there's one thing that's for sure; we're all impacted by COVID-19 and we're all plagued by the uncomfortable change and general unknown of a worldwide pandemic. The presence of COVID-19 has changed many of our daily lives, including how and where we work. But how does COVID-19 specifically impact the marketing world?
COVID-19's Impact on the Marketing Industry
COVID-19 has definitely changed the way businesses, big and small, market and talk to their audience(s). It's not necessarily about your products or services anymore. Take the world-famous beer company, Guinness, for example. They were confronted with COVID-19 just weeks before their biggest holiday – St. Patrick's Day. Rather than ignoring the monstrous elephant in the room that was clearly going to impact how everyone celebrated on March 17th, they re-centered, and made their message timely in a whole new way. Guinness did a great job providing a message to their audience - current and potential buyers of their product - that was timely, relevant, and sparked hope. What they did - what so many are doing - is switch from sales efforts, to empathetic efforts. Do you find marketing efforts at the forefront of your priorities right now? Make sure to take time to check in with your teams and customers before jumping into the new idea or sales pitch.
The marketing industry has seen a large shift in trends within the past couple of weeks. Media traffic has skyrocketed 35% because of COVID-19. Whether or not a large chunk of that is from news media, it also means people are spending more time on their phones and laptops, therefore likely consuming more media than before. The industry has also seen an increase in video conference meetings. Whether it's with your team, or with customers, video is the new face-to-face. Many are still finding the importance in making those relationships with customers, even though it's not through a physical meeting anymore.
Virtually all businesses have some sort of marketing strategy or plan they hope will assist in customer leads, retention, and interaction. But in these aforementioned strange times we're living in, how do we move forward with our marketing goals while still acknowledging what's going on? It's a question we're all asking. And if you're still not sure - it's OK, and you're not alone. If there's a way Greenline Marketing can help support you during the coming days, weeks, and months - please don't hesitate to reach out.
marketing communication during the covid-19 pandemic
Depending on the industry and message, budgets for marketing tactics may take a hit during this time due to the circumstances. For example, your local jeweler? Probably not pushing a brand new pair of diamond earrings quite as much as they were. But your local health services businesses might need to get their message out to more people than ever before. It seems like when it comes to the COVID-19 pandemic, a big "IT DEPENDS ON…" sticker is stuck on everything.
Regardless, it's important to create a new marketing plan that addresses current events, now more than ever. You might need to change how your team works together, and change how your team interacts with your audience. Here are some tips to assist in making this switch to new marketing and communication tactics...


1. evaluate your services
This step is crucial right now. As a business, you need to evaluate your products and services. Are they essential? Can they provide comfort to others during this time? If you answered yes, this is when you can consider ways to give back to your followers, or society as a whole. Businesses all over the world have started to make a difference.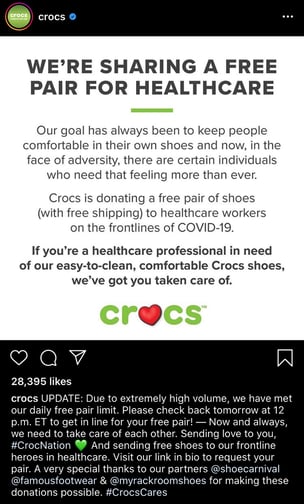 For example, 3M, a major producer of healthcare protection gear, is working to create more respirator masks during this time. U-Haul is offering college students the option of free 30-day storage due to cancellations. LinkedIn is offering their 16 webinars for free on topics ranging from productivity tips, to relationship building, and virtual tool instruction. With similar efforts, Crocs, the shoe company, is donating 10,000 free pairs per day to healthcare workers on the front line of COVID-19 efforts. We all have a part during this time.
If you don't feel as if your business can directly give back or contribute to health efforts during this time, brainstorm ways you can still have a comforting, acknowledging presence. Will you use social media to provide messages of hope, new content, or ideas of what to do while 'stuck' at home? Many businesses are using this time to stay engaged with customers and provide them with content they're currently looking for, not pushing sales messages.


2. produce relevant content
Once you've evaluated your business services, you can start to consider what "relevant content" really looks like to your business during the pandemic. If you're a business that has an emphasis on productivity, comfort, or technology, now is your time to shine. With many of us working from home, individuals are seeking tips, ideas, products, etc. that will help them feel less on edge. Some businesses are essential to the smooth operation of other businesses. For example, hospitals need to be able to work directly with patients, so they shouldn't have to worry about the details. That's where they rely on internet providers, software providers, and personal protection equipment manufacturers to help with those aspects.
As humans, we don't want to feel alone in a time of uncertainty. So use this as an opportunity to connect with your audience on a deeper level. It's important during this time to think about how your products and services are relevant to some with a need for it, and create content that makes those needs timely. Provide concise, clear, and accurate messages to your audience during this time; don't beat around the bush when it comes to closures or new shop hours changes.


3. stay neutral & spread hope
This is a scary and unknown time for many people, that's for sure; it's important not to act as a news source or add fuel to the fire - be a resource. Your businesses' social media presence should remain neutral on emerging news relating to the COVID-19 topic. Try not to alarm your audience, but consider providing positive material and ways you can help and support.


4. get creative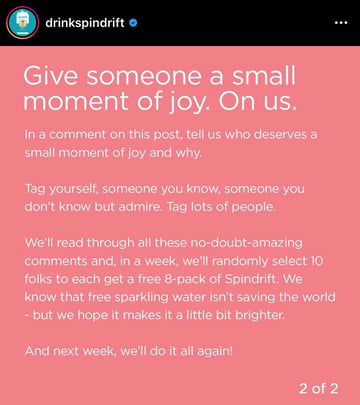 We're all cooped up in our houses, spending a lot of time in front of a screen. Now is the time to get creative! Use this time to try new techniques or marketing services. Maybe you have ideas to improve your website, or create a digital service guide but have never gotten around to it. It's important to keep creativity flowing, your audience will want to see new, fresh content. Keep them engaged by providing online classes, webinars, Q&A's, or digital meet-ups. Whatever you decide is best for your business, stay engaged with your audience and provide them with resources they're likely to interact with.
One way companies are getting creative is by having social media giveaways. Spindrift, a sparkling water brand, has put out a weekly giveaway on their Instagram. They are encouraging followers to tag someone who they think deserves a small moment of joy and why. Every week they will choose 10 individuals to receive an 8-pack of their water for free! Small acts such as these tell your audience that you're present, and want to give back during trying times.


If you feel lost trying to navigate all this from a marketing perspective, we want to remind you you're not alone. It can't hurt to be authentic and humanize messages during this time. We hope this helps; we're all in this together. Stay safe, and stay healthy. Feel free to reach out if you have any questions or need help in the process.