Studies show 50% of all consumers worldwide say they buy based on a company's brand, values, and impact. How can an organization have a higher purpose beyond the goods and services they offer? How does an organization share values with its consumers? It all starts with good branding.
Developing a brand for your company is, in essence, bringing it to life. Everything from logo and colors to social posts, to product packaging, should reflect the personality, mission, and overall spirit that moves your company. And your brand is the thread that ties all of these things together to entice your target consumer base.


WHAT IS A "BRAND", REALLY?
To put it as simply as possible, a brand is a business' promise to its consumers. The key here is making that promise known to your consumers, as clearly as you possibly can, in as many ways as you possibly can.
A potential consumer should be able to recognize your brand in even the smallest interaction with your company. As the marketing funnel narrows, consumers should encounter your brand more and more intimately at each step of their buying journey. Aside from generating new customers, your brand should work to engage and delight existing ones, and make all of your customers feel as though they belong as a member or extension of your company.
Branding can also instill pride and confidence in your employees. A strong brand amplifies how your employees might feel united and engaged with the product or service your company provides. A strong brand inspires support from within the company, and from consumers as well.


Things to consider when developing your brand
1. Brand Strategy
As with all business endeavors, you need a well-thought strategy to really knock your brand out of the park. A brand strategy, much like a marketing strategy, serves as a blueprint for your company's purpose, promises, core values, processes, and the ways you solve your customers' problems. An impactful branding strategy serves as a guide, but should look, sound, and feel more like a story. Strive to connect with and 'woo' your potential buyers with your brand story. Brand strategy should introduce sentiment into your buyer-seller relationship with customers to build and solidify trust. The emotion and trust that come from an intentional brand strategy strengthen loyalty like no other social post, banner ad, or direct mailer ever could.
Some questions you can ask yourself to help identify your brand strategy include:
What problem does my brand solve?
Who is my ideal customer?
Who is my competition?
What does my brand make my customers feel?
Why do my customers trust me?
What is the story behind why my brand was created?
If my brand was a person, what would their personality be like?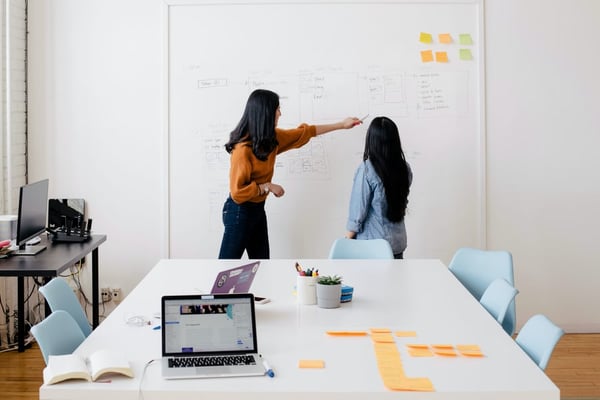 2. Brand Identity
After mapping out your strategic path to success, take a moment to reflect on your brand identity. Your brand identity is a signal to consumers that your product, service, ads, social media content, consumables, etc. all belong to YOU. In short, it is a summation of the colors and fonts you use, your logo, and the tone you employ in your written copy. Just think: what if Nike began to sell shoes without their iconic swoosh emblazoned on the side? The physical quality of the product would be just the same, but without the swoosh, the shoe would be missing the iconic 'Just Do It' spirit that Nike has incorporated so well into their branding. Your brand identity should be summarized and easy to reference in a brand manual (for inspiration check out these awesome examples).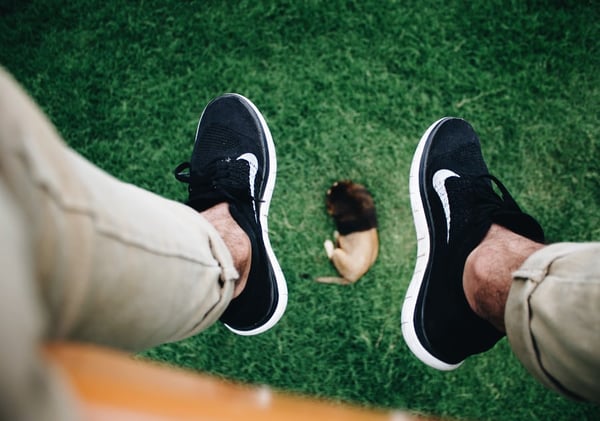 With a loud and clear brand identity, your business will stand out and attract customers to what makes you unique, even amongst companies within your industry. The more ways you creatively incorporate your brand identity into the everyday operations of your business, the stronger you communicate and live out your promise with current and potential customers. What sorts of branded sponsorships, partnerships, giveaways, or even branded events could you create? The possibilities are limitless.
An employee gets 561% more brand engagement when sharing a message on social media than when the same message gets shared by the company. Like User Generated Content, people like to see when employees love and support their organizations too. Educating your employees about the brand and including them in the brand identity can pay off. Not only does a shared brand identity unite your employees to a common purpose, it instills pride and promotes productivity, too. Brand Marketing
3. Brand Strategy
Brand strategy and brand identity become one through brand marketing. The marketing actions you execute on a daily basis. The social media platforms and user experience features you choose all serve as avenues by which you funnel your brand marketing out into the world. Your branding should remain the core pillar of your business regardless of whether it is expressed through digital, print, or experiential marketing channels. Marketing trends may change with the times, but your brand should always remain the same. Your brand is the timeless connection you have with your consumers, and your brand marketing promotes your products or services in a way that highlights and complements your brand. The marketing strategy you create allows consumers to be immersed in your unique brand experience.


Bonus Points:
Keep your friend close...
In business, your friends are your customers. Keep your customers close by regularly monitoring your social media and marketing insights. When you know more about the people your business caters to, you can more mindfully create a brand that will not only cater to them but also engage and delight them.
And your competitors closer
The only way to make your branding stand out from the crowd is to know the crowd. Study your rival companies' branding and marketing strategies. What works in their favor that could also work for yours? What is a weakness of their brand that is a strength for yours? When you keep a close eye on your competition and actively familiarize yourself with their strategies, you have the advantage to strengthen your own strategy.


Whether your business is new or old, or large or small, it's never a bad time to re-examine, re-fresh, or completely revamp your branding!