With a year under my belt as an intern for Greenline, it's time to take a look back. Blogging has been one of the biggest sources of growth for me as an intern this year and will likely continue to be in the year to come. I've learned and grown more than I ever thought was possible through blogging. From getting into a routine, transforming the way I write, following trends, and developing some grit to get through the ruts and writer's block, I am so thankful for it all.
Blogging is definitely not overrated. Content is still the foundation of digital and inbound marketing efforts. Yes, content is still king and the foundation of unique content is built by blogging. After writing 35 blogs over the course of a year I have come to live by these five blogging lessons…


1. It Gets Easier
Don't underestimate the power behind just getting started. You can do this! Get cozy and dig in. There's never going to be the perfect time to start, so just dive in. In the beginning, everything is seemingly overwhelming. When you're learning new skills it's hard to get started and sometimes it feels like you are biting off more than you can chew. But take things one step at a time. For me, it works best to dive into content writing and set aside 3 allotted times throughout my week to work on content. I always start with an outline to keep myself organized, then I move into a rough draft. After you've got your baseline, go back through and spice it up - you know, links, stats, resources - spicy marketing things. Getting started is the hardest part. If you can get into a routine of writing, it will get easier and faster because you won't constantly have to reestablish a process that works for you.


2. Find Your Voice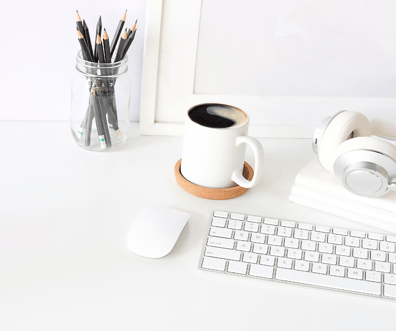 Things like this take time. Being comfortable writing blogs is a process. Your voice is constantly evolving - especially if it's a voice you're establishing on behalf of another client or as a ghostwriter. Once you find your voice, your blogs will flow. Focusing on continuously becoming a better writer adds some fuel to the fire. Find something that resonates with you to focus your writing on. Finding your voice requires you to take some risks. You have to figure out what mix of professional and casual writing work for you. The element of blogging that even those most seasoned professionals are constantly working on is writing for both the humans reading it and the search engines who are scanning and ranking the content. If you don't even want to read your own writing, no one else will - so focus on creating a conversational tone. For me, sometimes it helps to have a conversation about the topic with another person. People want to talk to people so a conversational tone will not only make blogging enjoyable for you, but also for your audience.


3. Get Inspired
Whether you don't know where to start or what direction to continue in, taking a step back is a great way to get re-inspired. Getting inspired will add some passion to your writing, and help you understand the topic from different perspectives. Throw out a quick Google search and dive into researching or reading other articles on the topic. It's important to remember that not every resource on the internet will be inspiring, sometimes you have to dig to find the ones that will spark interest and creativity. But you can learn things from those resources too. Looking into other content helps you piece together what concepts you want to avoid and what you want to leverage in your own content. You never know what will spark your next idea, so don't be afraid to take a step back and grab a coffee to reset.


4. Work Smarter, Not Harder
Use tools to your advantage! The Grammarly plugin is one of my favorites. It may seem like an obvious one, but it truly goes a long way. From simplifying your writing to grammar and spelling - this tool takes the cake. Clear and concise writing is what sets your content apart and can show your audience that you are a reliable source. Always take the extra step of proofing. Using a thesaurus is an additional way to create captivating content. Your word choice makes a big difference.


5.

Ask for Help
Everyone gets stuck sometimes, and quite frankly, it happens often. Communication is key to success no matter what the task is. You want to develop content that is relevant and interesting, and sometimes you get sucked into a black hole of content and find your writing going nowhere. It can get overwhelming, so get a fresh pair of eyes on your work and keep at it.


2023 is your year. Writing blogs is an excellent way to engage your audience and become more well-rounded with your content and branding strategies. Throughout the process of writing, there are endless opportunities to grow.