Digital Marketing has the potential to reach a large audience. Keeping up with the trends of today's digital landscape can help you better serve your audience and prioritize your efforts. These 6 metrics will not only help you generate and nurture leads but also uncover how you can elevate the buyer's journey for your audience.
To be successful you need to have goals. What do you want to achieve in 2023? Your success this year - and beyond - is reliant on your ability to look forward to what's trending. The industry is fast-paced, so being able to gather insights keeps you ahead of the curve.


1. The world's mobile user base has grown by 170 million
since this time last year.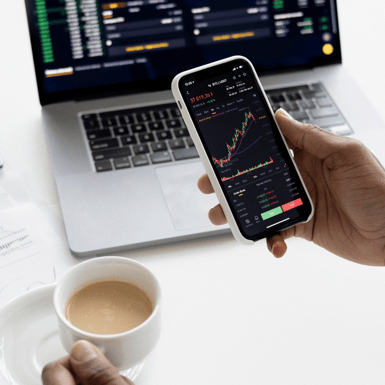 Today there's a total of over 5.48 billion active mobile users. With mobile usage skyrocketing it's no secret that mobile optimization is an absolute must in 2023. Mobile makes your content more accessible. Portable devices are easier to use on the go which means that people have access to your content at every waking moment. Personalizing your content goes a long way on mobile because its immediate nature allows you to precisely target your efforts. If a mobile strategy isn't on your shortlist for 2023, add it. Nearly 60% of people said they wouldn't recommend a business if it had a poorly designed mobile experience.


2. The short-form video has the highest ROI
of any social media marketing strategy at 30%.
Information spreads at lightning speed in today's digital space. The increasingly connected digital world means that brands need to be able to create engaging content at a fast pace. For content to be a success, it must break through the noise and convey its message before we can be distracted by something else. Short-form video ranks number one for lead generation and engagement because they are simple to produce. This content can keep up with current trends and important events in a way that other content forms can't.


The number of people using voice search is growing rapidly as more devices become equipped for it. Over 70% of consumers prefer to conduct queries by voice instead of typing. As your audience relies more on Siri, Alexa, and the works, focusing on creating a conversational tone, answering questions using complete phrases, and using long-tail keywords is fundamental to your SEO success and beyond.


4. 7 in 10 consumers
would prefer to receive email communications from businesses over direct mail, SMS, and push messages.
With revenue estimated to reach almost 11 billion by the end of 2023, email is still one of the most tried and true channels for communication. The impressive ROI of $36 for every $1 spent speaks for itself. Email is one of the most direct ways to reach your audience; over 77% of marketers have seen an increase in email engagement over the last 12 months. Standing out in email efforts relies on personalization. To leverage this, you need to focus on building relationships with your audience. People will trade their data for a top-tier experience. So, you need to get as much insight into your consumer as you possibly can.


5. "Near me" mobile searches grew over 500%
in the last 2 years.
Local searches are taking over SEO efforts this year. As one of the most promising methods for businesses to grow online, near-me searches are enhancing visibility. Local search is the perfect way for your audience to gain access to more of the information they care about. Not to mention that this is a more effective way for you to general high-quality leads.


6. The number of active social media users is set to surpass 61% of the world's population
in 2023.
As social media usage continues to surge, it's crucial to keep up with your social strategy. On average, people spend 2 hours and 27 minutes on social media each day. Standing out in the sea of content they scroll through is a lot easier when you leverage User Generated Content (UGC). UGC is a far cheaper option for businesses when compared with other content efforts. Not only does it help to improve authenticity, but also promotes user engagement. Connecting with a more niche audience generates and nurtures leads more credibly.


There is an endless opportunity to discover trends in your audience base. With all this data floating around, it's essential to know how and where to reach your audience. These metrics will help you understand what's to come in the next year and help you elevate your marketing strategy. Personalization is taking the cake across the board in 2023. People choose businesses that establish trustworthy and personal relationships. To meet customer expectations, focus on creating the most authentic content.