Welcome to the world of the digital assistant. Voice search has been around for quite a while now, but with the enhancements that voice assistants like Siri, Alexa, and Google now encompass, the digital landscape is growing at top speed. 72 percent of people with a voice-activated speaker say voice search has become a day-to-day activity. Voice search is changing the way that people find (and interact) with brands - which means it changes what the SEO landscape looks like for your content marketing.
"The next search engine is voice."- Gary Vaynerchuk
What is Voice Search?
We know you're tech-savvy, so our guess is you've probably used a digital voice assistant to make your life easier. Voice search is a convenient and spontaneous way to ask the questions you're dying to know the answer to. But how does it work? The functionality of voice search works because of automatic speech recognition (ASR), a high-tech way of transcribing voice to text. Transforming voice signals to text gives us the opportunity to search through smart devices, just by using our voices. For marketers, voice search is crucial to your digital strategy because of the growing popularity of the digital assistant. A successful voice search strategy optimizes your website content so that it's easy for voice assistants to find you when people ask a related query.


Voice Search on the Rise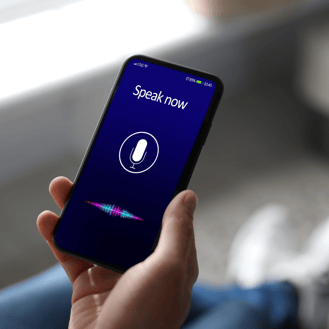 As the popularity of devices like Google Home, Alexa, Echo, and Siri grow, so does the potential for businesses. At the moment, there are already 45 million voice-assisted devices in use in the United States. Incorporating a voice strategy into your marketing plan is a game changer. As voice search continues to be on the rise, you should continue to focus on best practices for SEO and adapting keywords to a more question-like tone. Voice technology is improving all the time. In the last couple of years alone, Google has increased its word recognition accuracy rate from below 80 to over 90%, and this means devices are getting easier for people to use and interact with. Just as mobile and social media platforms have become staples in your digital marketing strategy, voice search is following in close pursuit.


How Voice Search is Changing SEO & Content Marketing
Search engine strategies are destined to change with the growth of voice search. Comscore estimates that in 3 years, voice search will make up 50% of all searches. SEO is starting to favor longer queries that target overall topics as opposed to 1-3 word specific keywords. People are asking their voice assistants questions as opposed to typing in a few keywords. Your page will perform better if it answers a question instead of just stating a few keywords. SEO isn't the only thing changing with voice search. Digital content marketing is all intertwined, so we are seeing the translation of this more casual conversation style across all platforms.
Over 70% of voice searches have a conversational tone to them. As people become more comfortable with using voice search to its full extent, it's only going to become a more imperative tactic in the digital landscape. Your content efforts will need to cater to the evolving atmosphere that voice search is inspiring among your audience. How? Creating more personal content that elevates an experience for your customers will do wonders for your search ranking. Linking these to other platforms like social media and email marketing will engage your audience and help your ranking. As more people click on links to your site, the more your ranking will grow.


Tips for Improving the Customer Experience with Voice Search
Voice strategies are not only about relevance, they are also heavily reliant on your connection with your audience. Creating a uniquely optimized customer experience that fosters relationships builds loyalty that will drastically affect your ranking. Voice search provides valuable insights about users that can help you to create more personalized messages. This technology makes interactions with businesses more seamless. These interactions are more effective than text searches, which makes life more convenient for your busy audience who expects a top-notch experience every time they interact with you.


1. Use a Conversational Tone
Voice search queries generally have many question words. Adding keywords like how, what, where, when, why, etc., make your content more relevant for voice search. Long-tail keywords make more sense for voice searches because people are likely to be more specific when using speech as opposed to text. Over 60% of voice search currently originates from digital assistants. After all, very few people speak the same way they type. For example, someone may type "top-rated restaurant near me", and they'll likely speak "What are the top-rated restaurants near me?" You'll want to account for both.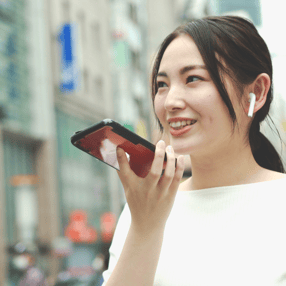 2. Consider Load time
Load time can make or break your click-through rate. People don't like to wait for content to load so if your content is lagging, they will likely abandon your page and find a different result. So you need to optimize your page in order to better serve their needs. Don't overlook data requests, large images that can be compressed, and overall site performance.


3. Leverage Local Search
Many platforms leverage location-based marketing when showing results to the audience. This means that if you don't have a physical location your site ranking may suffer over time. Nearly 22% of voice search queries are seeking location-based content. A local voice search SEO strategy can ultimately help drive traffic to your website and boost sales.


4. Make Mobile Friendliness a Priority
Mobile optimization levels up your ranking when it comes to voice search because most voice search is done through mobile devices. If your content is not easy to access on mobile devices, your search ranking will suffer, especially in terms of voice search.
There are so many reasons why it's becoming more and more essential for brands to leverage voice strategies. Voice search is growing, and as it does it's changing the face of SEO. Implementing a voice strategy will help you improve your customer experiences and drive more traffic to your site. Not to mention, keep you ahead of the game when it comes to your competition.