We've covered a variety of different aspects in our email marketing series - here's a quick reference list:
Now it's time to get into the nitty-gritty. Email marketing is a tried and true way of providing a specific message to your audience, but you won't get very far if your email contains ONLY text. 65% of your audience are visual learners...you can't disregard the benefits of using photos and videos in your email marketing tactics.
The bulk of your email will be text, but including photos or videos (or both) helps your readers visualize your product or service. Having visuals produces higher desire for a product or service because the consumer can visualize themselves using what you offer.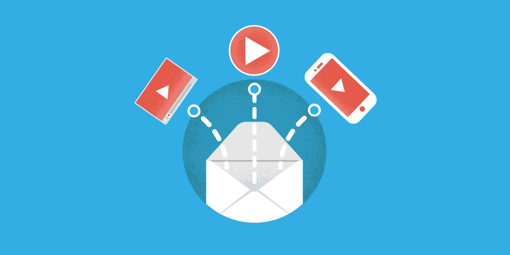 Although images and videos have similar effects, they do bring different strengths to the table. Here is some insight into how (and why) to utilize images and videos in your email marketing campaigns…


using images in email
Including images and graphics in emails can be a tricky task. There are many different requirements, from file size to quality. Here are some quick tips about putting images in marketing emails:
1. Make sure you don't have too many images that are too big. This will slow down the loading time and impact your readers' experience. The general rule of thumb for image data weight for an email is 600-800k so it's a good idea to keep an eye on it.
2. The file format that images are saved as makes a difference when choosing images for an email. The three main formats are JPG, PNG, and GIF. Each format provides a different quality, and therefore uses different image data weight. JPG format is generally less quality, which will selectively discard some data. PNG format is better quality images but takes up more space. And GIF format allows for moveable photos that play on a loop. Choosing which format works best for your emails depends on your goals and email content.
3. When including images in an email, make sure they are designed with accessibility in mind. This includes having a text alternative (or alt-text) for your photos. This allows easy access for users who are using screen readers to understand what the photos are. This alt-text should be short, concise, and utilize keywords.
4. Last, your images should emphasize your content and compliment your email marketing goals. Make sure you have relevant photos that pertain to the topic of your email or vision of your business. Having photos in your email that don't further your goals won't help you or your reader.


using video in email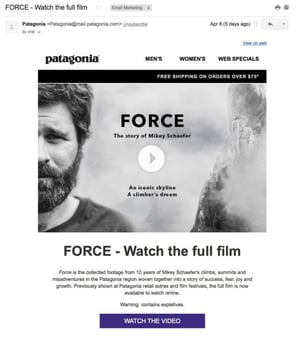 Over the past couple of years, video has played an important role in marketing efforts. It has grown and became one of the most useful and proven marketing tactics. 72% of consumers prefer to learn about a product or a service by watching a video about it.
When it comes to video marketing, you won't necessarily be sending subscribers a video to watch a video through email, but instead sending a thumbnail image which will send them to a landing page. Even though directly embedding a video into an email isn't usually supported, video is still very useful in emails. Wistia found using video in emails led to a 300% increase in email click-through rates.
Not sure how to include video in your emails? Here are some ideas:
Provide your readers with a news roundup or update
Show readers a behind-the-scenes look into your business
Showcase a recent event
Create an inspirational video to spark motivation
Create a how-to video
Share your businesses story with a video
If you have a video in your email, it's important to include that in your subject line! Including the word "video" in your subject line increases open rates by 6%. Using videos in your email marketing can dramatically change your email engagement rates.