Your influence as an industry thought leader relies on your ability to keep discovering. To maintain a certain level of expertise, we know it's imperative to stay up to date with current trends and trending topics by learning more about your industry, the state of the industry's market, and really - the world in general. All of this information can help you (and thus your sales and marketing strategy) not only stay fresh but also spark new ideas.
In both your personal and professional life, one of the most crucial skills you can develop is to become a lifelong learner. Our first piece of advice? Build time into your day (or at least weekly) to check out current topics, both industry-related and outside of your niche.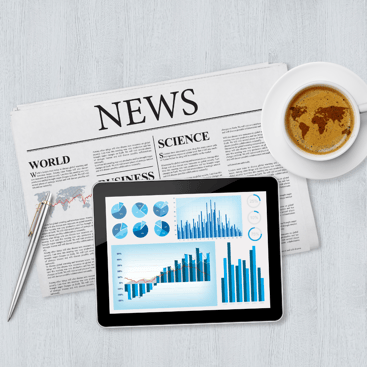 1. Read! Read! Read!
Read everything you can get your hands on. Industry-related blogs, books, and podcasts are a great place to start. In terms of the digital marketing industry Carney.Co is high on our radar. Regularly keeping up with industry content publications and websites and global, national, and regional news will keep you up to date with the latest.


2. Dive into Statistics
The numbers don't lie. Statistics about digital marketing trends (and beyond) pinpoint what trends you should be focusing on. HubSpot is a great place to start your market research. Software companies like HubSpot curate, research, and publish mountains of data that will help you gain insight into trends. Additionally, researching your buyer persona's lifestyle, demographics, and preferences enables you to get to know your audience.


3. Leverage SEO
When something is popular or goes viral, usually a lot of people are Googling it. Google remains the most popular search engine. Google Trends is a free tool that allows you to evaluate the baseline of search trends. Paid tools like Moz allow you to gain insight into new search patterns through industry keywords. Topics that are starting to take off are symbolic of future market gaps that you could fill. Specific topics may not have a ton of search volume right now, but if they're trending upward, there's some potential - and that's where the gold is.


4. Keep Tabs On Your Competition
Observing your competitor's approach can help you capitalize on your strategy and take trends to a new level. Keep an eye on their social media presence and website to see what's working for them and what's not. Engagement levels on social media are mostly public, meaning it's possible for you to keep tabs on the success of their content.


5. Turn On Your Out of Office
As a professional, you need to keep yourself informed about what's going on outside of the office. Don't lock yourself in front of your desk, see what your audience and the rest of the world are up to. The best way to see what's happening is to experience it and be a part of it.


6. Stay Future-Oriented
Don't get super caught up in "what's hot now." Looking toward the future allows you to get ahead of the trend curve and plan for it. Think about which trends might continue to impact your industry in years to come. Forecasting the longevity of trends is all about analyzing data. Use public demographic data and your own client data to get a better view of what's gradually trending upwards.


7. Go Beyond Your Industry
Don't focus on your industry alone. Reaching beyond your own industry and comfort zone pushes you to think outside the box. Interacting with and observing people with unique backgrounds in other fields and locations gives you a new perspective and helps you think creatively. Learning about trends in other areas will spark unique ideas for your own.


8. Expand Your Network
Get to know people in your industry and outside of it. Forming relationships with your colleagues, partners, and clients creates space for you to discuss trends across businesses. We aren't saying your conversations need to be incredibly professional though. From happy hour to trade shows, all of the conversations you have can be valuable to your success.


Trends influence everything from your business, clients, and industry, so staying on top of them is crucial to your long-term success. Continuously being informed about current trends to help you build credibility and value while giving your company a new competitive edge. Your strategy will improve if you have insight into which topics and developments are on the top of your clients' minds. When you understand what's going on inside and outside of your cubicle, it's much easier to decide where you should focus your efforts and resources.