Short form video opens new doors for digital marketers. In 2023, Social ads, particularly short-form videos, are predicted to generate more ad revenue than any other platform. The duration of short form videos gets straight to the point. Studies show that social media video content under 60 seconds retains 60% of the audience by the end. This percentage increases to 80% when the length is 30 seconds. Stand out against the sea of content by engaging your audience with short-form videos.


What is Short Form Video & Why Does it Matter?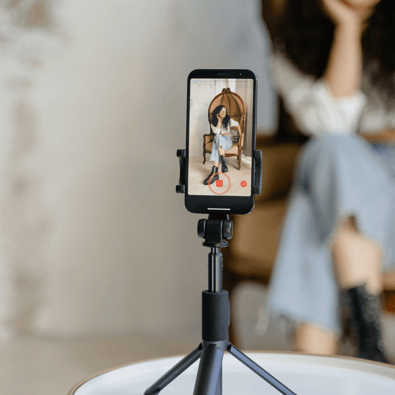 Short-form video doesn't have a clear definition as far as length goes, but typically it's associated with video content of around 60 seconds. The length of short-form video varies across platforms. For instance, on TikTok and Instagram it ranges anywhere from 15 seconds to 2 minutes, on Facebook it's between 60 seconds to 3 minutes and Youtube shorts sit at roughly 5 minutes. Regardless of the platform you are using, short-form videos are meant to be bite-sized pieces of content. These snippets of content are focused on connecting with your audience in an engaging and efficient way.
Short-form videos convey authentic messages concisely. Short form video is all about cutting to the chase. As the middle ground between long-form video and static images, there are so many unique possibilities. This content form is a blend of the interactive elements of long-form video and the efficiency of static content. Think of how long (ok, how short) our attention spans are – makes sense why a quick video to fill us in is so darn enticing, doesn't it?


4 Benefits of Short-Form Video
Engagement

68% of users will happily watch videos that are under one minute. The interactive nature of video presents your content in an authentic way. When your content is interactive, engagement levels will follow. On top of that, the conversational tone of video is designed to be a more real experience.



Comprehension

Your audience is looking for bite-sized pieces of content they can digest quickly. Short-form video is the perfect way to reach your audience in today's fast-paced world. Successful short form videos are short and sweet. Convey your message in the shortest amount of time possible without sacrificing communication and messaging.



SEO Conversion

Along with short-form videos' higher engagement levels comes better SEO conversion. When your visitors spend more time on your website, Google places you at the top of search results. Short form video content keeps users scrolling for longer periods. Your website's search engine optimization (SEO) can benefit from adding short-form videos. Engaging content leads to more clicks.



ROI
The engagement levels that short form video creates lead to high conversion rates. In turn, high conversion rates pave the way for a high ROI. This is because video increases interest in your business. Half of all short-form marketing videos have a CTR between 5 and 8%.


4 Tips for Creating Short-Form Video that Stands Out
Create content your audience will love by leveraging short form video. Short form video keeps your audience's energy alive for the entire duration of your content and sets you apart from your competitors. The easily digestible nature of these short pieces is designed for scrolling through. Successful short form video gets your message across effectively.
Repurpose

Short form video content creates a space for you to present your ideas in a new way. Developing new content all the time is time-consuming and expensive, so instead of starting from scratch you can take old content and give it a new spin. The most popular way to repurpose video is through cross-channel distribution. Distributing your content across your social media platforms and website allows you to reach an expanded audience. Viewers are more apt to engage with your content if they're entertained, so make sure your content is fresh and original.



Connect

Funny and interactive content have a higher ROI when it comes to video. Keep things original in your video. This is the space to let loose and share fun content. There's no need to be so serious. Emotional connection brings short form video content to life. Using humor in your short form video marketing content humanizes your company.



Follow Trends

Keeping up with the latest trends can help your business stay connected to your audience. Capture their attention in your short form video efforts by staying on top of news related to your audiences' industry and hobbies. Staying up to date with trends keeps things fresh. TikTok specifically is a powerhouse for new trending short form video content. Get inspired by the latest trends and get your scrolling in because your audience engages with videos that discuss their current interests.



Educate & Explain
Explainer videos are on the rise this year. Your audience is looking for quality information, packaged in a short and concise format. With video, your message comes across clearer, so it's the perfect space to explain in-depth topics. By sharing knowledge and expertise with your current and potential audience base, you can teach them more about your industry and what you have to offer. Establishing thought leadership helps your audience grow and helps you establish credibility.


Innovate your content strategy in a new way by leveraging short form video. According to 47% of video marketers, short-form videos are the most likely to go viral. Keeping videos short keeps your audience interested and expands your reach. Short form video can help you design informative and engaging content.