The new year is a perfect time to pause, evaluate growth, and shift gears in order to achieve bigger, better goals in the coming months. This is true for personal aspirations, but vital for your business marketing strategy. In this blog, we'll walk through how to assess your 2020 marketing results and gearing up to set smart, strategic goals for the year to come.
First, Assess 2020 Marketing
Before you dive into your plan for 2021, take a look at the goals you had set around this time in 2019.
What marketing tactics did we execute this past year?

What have we accomplished with your marketing strategy this year?

What worked really well?

What are the areas for improvement?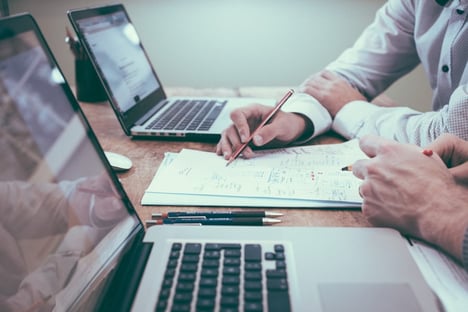 Chances are you weren't prepared for the (many) curveballs the past several months have thrown all of us. For some, COVID-19 has drastically changed our marketing strategy for years to come. Gone are the days of workshops, trade fairs, conventions, fundraising events, and even some business trips for the foreseeable future.
Ask yourself:
How did our marketing strategy change when COVID hit?

In what ways were we able to pivot to adjust to the changes in our world?

Did we take any content risks in spite of the volatile market?

Aside from COVID, in what areas of marketing have we seen growth or decline?
If you ask yourself these questions and carefully consider the answers, you can pinpoint growth opportunities for your future marketing strategy.


Draft your 2021 marketing goals
Once you take the time to identify growth opportunities from your 2020 reports and analytics and familiarize yourself with broader market predictions, you can begin to build goals for 2021. With a comprehensive understanding of everything you learned and accomplished in the past year, you are at an advantage to better plan for the next year.
If you move forward with marketing without a strategy, you lose the opportunity to see consistent progress across your website and digital marketing efforts. Setting goals ensures that you and your marketing strategy stay in constant motion as time goes on. The more detailed goals you set, the further you move your marketing needle, and ultimately grow your business too.
Not sure where to start? This article from Neil Patel is great!


What + How: Your 2021 Marketing Plan
1. Budget Allocation
Social media advertising investments will continue to grow, with a 17% compound annual growth rate from 2016 to 2021. That means marketing budgets are growing, and they're growing fast! When considering your budget allocation for 2021, consider your marketing foundation.
How important are your brand, marketing strategy, and website design and development?

Are they all equally vital to driving revenue?

Which ones attract the most new business?

Which of these pillars don't attract enough new business?
Keep in mind small businesses (under 250 employees) typically spend 7% to 8% of their total revenue on marketing, while larger companies (more than 250 employees), generally make a marketing investment of 10% to 14%.


2. Video is Vital
One-third of shoppers will purchase an item after seeing a video ad. Video content has a huge advantage over all other content because it connects with viewers through audio, visual, and emotional streams of communication. Your company comes to life in video content because it allows customers to see, hear, and feel your branding. Just remember, shorter is better. Videos less than 1 minute had a completion rate of 68% last year. Some possibilities to consider including in your video marketing strategy might be live video, shoppable video, and soundless video.

3. Expand or Refresh Brand Values + Message
A brand refresh allows you to showcase a more consistent brand image and message in order to better connect with consumers while maintaining the core aspects of your business. On a more practical level, a brand refresh is basically a glance-over-style audit, analysis, and adjustment of your business' branding tactics.
If you're not sure what your 'brand' is, includes, or if it's up-to-par, this blog may help.

4. Is Your Website Helping or Hindering?
Whether your website speed is poor, needs new content, or isn't performing from a sales or optimization standpoint, your website may be working against you, rather than with and for you. Take a fine-tooth comb to your website and consider if it's time to update or if your website is the machine it needs to be.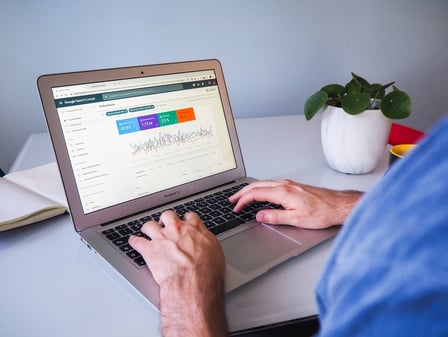 Using web analytics tools like Google can help you make connections and correlations between your marketing efforts and your website. Metrics you should examine to identify the strengths and weaknesses of your website include:
Time on page

Bounce rate

Conversion rate

Website traffic
Because the Google algorithm is consistently updated, your competition continues to change, and your searcher behavior is variable, you should regularly check up on your site's web analytics.

5. Incorporate Marketing Automation
Your business can activate personalized email campaigns based on user behavior when you link email marketing analytics to your website platform. Automation programs like HubSpot, MailChimp, or Sendinblue can recognize web visitor activity and send personalized emails to meet customers where they are in their buyer journey.
Marketing automation can address any or all of the following scenarios:
a blog welcome series for new subscribers

enhanced confirmation emails to add value to the customer journey

customer anniversary emails

users who abandon their carts mid-purchase.
Use these automation programs to build better connections with all of your consumers at any place in their buyer's journey, and any level of connection with your organization.


6. Content is Still King
Search engines are smart enough to gather context clues from the searcher's writing even if they insert a preposition into a key phrase. In other words, your content should be written for human brains, even though Google is the machine in the middle connecting you to your readers.
Digital content encompasses a variety of things including blog copy, video content, social media posts, writing on your website, visual content in the form of photos, and infographics, and more. Like other marketing tactics, take a step back and assess what content is working for you, and what areas you have for improvement. Regardless, you want to bow down to this king!
When writing blogs, web copy, and even social media content, keep in mind SEO may be 'techie' and controlled by an algorithm, but on the other side of that system are human users. In 2021 this will continue to be true especially with Google's new Page Experience signal to launch in the new year.


7. Step Up Your Stories
Stories are hot in consumer marketing right now. If you're not using them 2021 is the perfect time to begin. If you are using stories, 2021 is the perfect time to begin producing stronger stories. Nearly every platform has some variation of stories, and no matter who your consumer is, posting well made, targeted stories will serve you well.
Whether your target audience lives on Facebook, Instagram, Snapchat, or even Pinterest and Youtube, stories are the first thing users see when they log into the app. For Instagram alone, nearly 500 million users now use Stories every day, and even more importantly, 15%–25% of people swipe up on a link in branded Stories. Stories are a huge growth opportunity for businesses across all social media platforms, make sure you are tapping into it in 2021.

8. Leverage Tools, Promos, and Freebies
Luckily for us, there were already tons of free marketing resources available before 2020. But after the pandemic, however, there has been a surge in online classes, webinars, and free online marketing tools. For the first time ever, college courses from schools like Harvard and Yale are offered for free online at edX and Coursera. For those trying to learn marketing and advertising while working full time, local agency Superhuman's Extra Grind webinar classes are the perfect free resource for you. When it comes to digital content, Creative Market offers free goods every week, ranging from fonts to graphics to WordPress themes.


Though 2021 is still two months away, it will be here before we know it. Use these last few months to reflect and prepare. You'll be glad to have a steady center and sense of purpose in your marketing strategy. You'll find too, that with mindful planning, your goals grow closer and closer every day.